We will be closed during the following dates of 2023
Gingerbread House Kit Pre-Order
Back by popular demand! We are now accepting pre-orders for our gourmet Gingerbread House Kits. The kits will be available until sold out
Buy now
Place an in-store order
Email info@livnutfree.com to place an in-store custom cake or dessert order!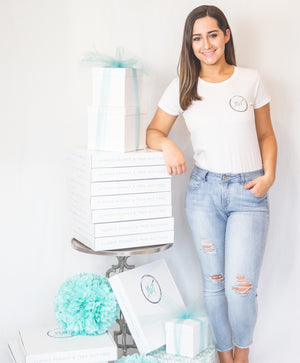 Meet Liv
Meet Olivia Moglino, CEO and Founder of Liv Nut Free, who is severely allergic to peanuts and tree-nuts. Read about how her allergies shaped her into who she is today and what inspired her to create Liv Nut Free!  
Read More
Knowing how the owner, who has peanut and tree nut allergies herself, took something negative and turned it into something positive, was such an inspiration for my own kids. When it comes to their food allergies I am very overprotective. I was so happy to read they are Servsafe Certified and approved by the Board of Health. Not only are the cakes, cupcakes and brownies delicious, but my kids could eat them without worrying about a reaction. It's worth the drive from Staten Island to pick up these treats. There is so much love and care that goes into each cake. Each creation is a work of art!
Lisa
This was my first time ordering and Stephanie made placing the order easy and smooth. I am a parent with a daughter who has a nut allergy and she answered all the questions I had and put my mind at ease knowing that their products are completely nut free. I purchased the Bakery Box. This had the perfect treats for my daughter. She was so excited and absolutely loved it. When she tasted the cookies, brownies and the coffee cake, she said it was "absolutely amazing" and she highly recommends it to anyone even if you don't have an allergy. Thank you Liv Nut Free for making delicious and mouthwatering baked goods. You can taste the love and the passion that went into your products.
Samantha
I don't know what to say. My son has 18 food allergies. Five that will kill him. Daughter one. Eating out is near impossible. Bakeries. Ha. A pipe dream. Until we found Liv Nut Free. And today we received an amazing package filled with delectable goodies. So. I don't know what to say. Cause the stinkers ran away with the box. The chocolate chip cookies are already devoured. And they're really sick today. I doubt anything will be left or it will be hidden. She's that good. Even if you don't have any food allergies.
Chris
Liv nut free
55 White Road
Shrewsbury, NJ 07702
1(800)913-7913
info@livnutfree.com
Please email info@livnutfree.com to place an in-store order.
IN-STORE HOURS
Wednesday: 9-4
Thursday: 9-4
Friday: 9-4
Saturday: 10-1